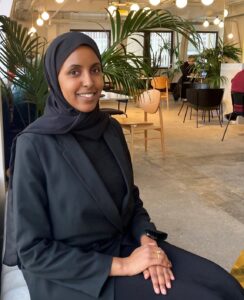 meet yasmin ali, our superstar intern from the 10,000 black interns programme
I have joined HERA Communication Strategies for a six-week internship as part of the 10,000 Black Interns Programme.
I was attracted to working in PR because I wanted a role where I could apply my creative writing and research skills, and support organisations in finding innovative ways to connect with their audiences. 
As I am in the early stages of my career, it has been fantastic to work at HERA because of their sector-agnostic approach. I am grateful for the opportunity to assist clients operating in a diverse range of industries.
HERA stood out to me as it is an inclusive agency with women in senior leadership positions. HERA is also a member of Women in PR, an organisation aiming to increase the number and diversity of women in leadership roles in public relations. Similarly, I wanted to work in a close-knit team where I could learn more about PR, public affairs and finance. My expectations have been met at HERA as my colleagues encourage me to ask questions and give me high-quality work.
I am an LLB Law and Politics graduate and recently completed the LLM Legal Practice Course. I believe there is synergy between PR and law, particularly in risk mitigation. There are also transferrable skills between PR and law. For example, attention to detail and communication skills are critical to both fields. Likewise, the ability to understand and react to challenges facing clients is also essential in both law and PR.
I hope to gain practical experience working with clients with differing needs, and to develop my commercial awareness, communication and project management skills.
@10000BI
If you like what you hear and are interested in finding out about emplyoment or intern opportunities at HERA, email [email protected] or click the link below.